2015 and Beyond: The Next Generation of Content Strategy
2015 marks a lot of great things for content, content strategy, and me!
To begin, Julie Christie just delivered this new, sleek, website a few weeks ago on my digital doorstep. I updated most everything (but we are missing a bunch of old blogs, maybe they will fly back North after the winter). In the near future, you will be getting video blogs, more updated templates (checkout the updated 2015 Stakeholder Interview Protocol) and lots, lots more.
Also, stay tuned for details on all the great workshops I am doing this year on topics such as performance-driven content and omni-channel. And don't forget to check out my new book with a foreword written by none other than The Ann Rockley: Enterprise Content Strategy: A Project Guide.
My content strategy predictions for 2015
So let's get to the thick of it, my 2015 predictions. Six trends that will drive content for the largest and smallest of organizations:
Performance or data-driven content
Omni-channel content
Content Marketing and its role in the content universe
Intelligent content solutions
Content as an enterprise-ecosystem
Smarter governance models to support the above
In a few weeks, my first video blog will launch a series of content strategy themes in five minutes or less. I'll take a topic and explore each much further. The first six videos will be devoted to each of the above themes. So don't worry if some of these seem a bit complicated, all will be explained and examined soon.
1. Performance-driven content
Simply put, performance-driven content is content an organization measures and evaluates after publishing in order to make decisions on future content priorities. Performance-driven content is first in this list because it drives all the other categories. Brands that do performance-driven content well will reap the benefits ten-fold.
Done well, an organization measures content performance by the minute, hourly, weekly and/or monthly via analytics, user research, insights and trend analysis, user behavior, and competitive audits. Tools to do it right include the right analytics and ongoing audits. For an excellent resource on auditing your content and building in a governance structure to support ongoing audits, you can't get a better one than Paula Land's Content Audits and Inventories: A Handbook. I will continue to recommend the use of her book in concert with mine, and I predict a very, very good future in content strategy for Ms. Land.
Working with a governance and operational model to support ongoing audits and evaluation of content with built-in processes to plan for continual optimization and new content opportunities, performance-driven content drives the best, most effective and relevant content. In essence, it gets the right content to the right user at the right time. It keeps organizations honest about your content consumers and their needs. And helps them decide which areas to invest in the future.
2. Omni-channel
As Rebecca Schneider of Azzard Consulting often says: Design for a singular channel at your own peril. We don't live in a singular channel world anymore—not that we ever did, unless you were born before the early 20th Century—and the same holds true for our content. So all channels, including mobile, live within the category of omni-channel.
But make no mistake, omni-channel is not a synonym for multi-channel (which simply means that you consider more than one channel). Omni means placing customers at the center of an experience, and working backwards from their needs and tasks to figure out which channels they engage; and then, delivering to them channel-optimized content to meet those needs. Done right, omni-channel disrupts traditional business silos, as a content type becomes a cross-channel experience internally and externally to a business.
To purchase a product, a consumer might go from a TV ad to iPad, to mobile device (click to map) to in-store to sharing the experience socially. The consumer and brand relationship blooms after the decision to purchase a product or engage with an experience, while channels provide a medium for solutions to consumer's needs. Concepts such as "singular view of the customer," "unified commerce experience" and "cross-channel integrated inventory" drive a seamless consumer experience.
No matter how large or small, any organization benefits from applying best practices in omni-channel content strategy. And most major retailers in the US and UK plan to or currently invest in omni-channel. Don't believe me? Take a look at LCP Consulting's 2014 omni-channel Report. As the year progresses, you will hear about ways that organizations succeed as well as struggle to integrate more omni-channel approaches into their content strategies.
3. Content marketing
It's gotten a lot of buzz. Content marketers and their evangelists are good at getting the word out. And this year the confusion about what it is or is not will not go away but instead become more blurred as industry leaders in content marketing make a grab to own all content.
But let's not get ahead of ourselves. Just as most other prominent content strategists, I have stated for years that all content is brand content because it represents a manifestation of the brand to the consumer—whether it be:
An in-the-box quick-start product guide for a new computer;
a script used at a customer call center;
product packaging for a candy bar; or,
content for an online banner ad.
The Content Marketing Institute proclaims all consumer facing content — content that sells a product or enhances the consumer relationship or retains consumers — belongs under the domain of content marketing. Ergo: nearly all content.
I mean, is there really much content an organization would possess that would not fall into one of those three buckets? (And yes, that includes corporate and career content.) It stands to reason that content marketers may get what they wish for in some organizations. The question is: can they handle it?
And I completely disagree with content marketing being the why and content strategy the how. (Although I do love me some Marcia Riefer Johnston.) If anything, the opposite rings largely true with content marketing presenting a set of tactics within a larger content strategy. Regardless, this plot is only going to get gooier as businesses look to get content right in their organizations in this era of the Internet of all Things, omni-channel and performance-driven content.
And I could not be more excited than to see how some very brilliant women weigh into all this, Kristina, Kristina, Kristina, Rahel, Rahel, Rahel. And thanks be to all the Gods or Goddesses that they are and will continue to do so. Might we also see some new books from these two? My prediction: yes!
4. Intelligent content solutions
Why did Joe Pulizzi of Content Marketing Institute buy Ann Rockley's Intelligent Content Conference? (And be sure NOT to miss my omni-channel workshop there.) Maybe because he, like many of us, recognize that intelligent content drives the future of content experience in all things digital.
Within this category of intelligent content, we have dynamic content, personalization, semantic and predictive search and content, recommendations logic and logic-driven content models that drive cross sell and up sell. And lest we forget *snap snap* multi-channel publishing.
Important, complicated, and not without a very robust and solid content strategy and operational model to support it, intelligent content fuels the efficacy of content marketing tactics and omni-channel experience.And don't worry, even if in 2016 those two things fly south to join my missing blog posts, the Internet of Things is only going to push the demand for intelligent content in areas that we have never seen.
5. Content as ecosystem
This year is the year that more and more organizations not only realize that content is an ecosystem but understand the necessity to seed and feed all aspects of it. Along with corporate and product content, social content, user generated content, media, long-form content pieces and the convergence with SEO and analytics with channel awareness (don't leave out all those emerging smart devices and don't forget the Feature phones, damnit!)
Content as an ecosystem ensures that my first four predictions are done well. In essence, content as an ecosystem implicitly illustrates the need for an enterprise content strategy approach. And didn't someone just write a book on how to do all that?
My prediction: more and more organizations will start treating their content as an entire ecosystem and do things like create content domains and hire more chief content officers to oversee these empires. And I would look for marketing departments to also make plays here, with MARCOM divisions vying to own all aspects of content, not just campaign, advertising or inbound. Maybe a certain Content Wrangler is onto something when he proclaims: "The future of technical communication is marketing."
6. Governance models
And if you are still reading, I provide you with a present (from my book Enterprise Content Strategy).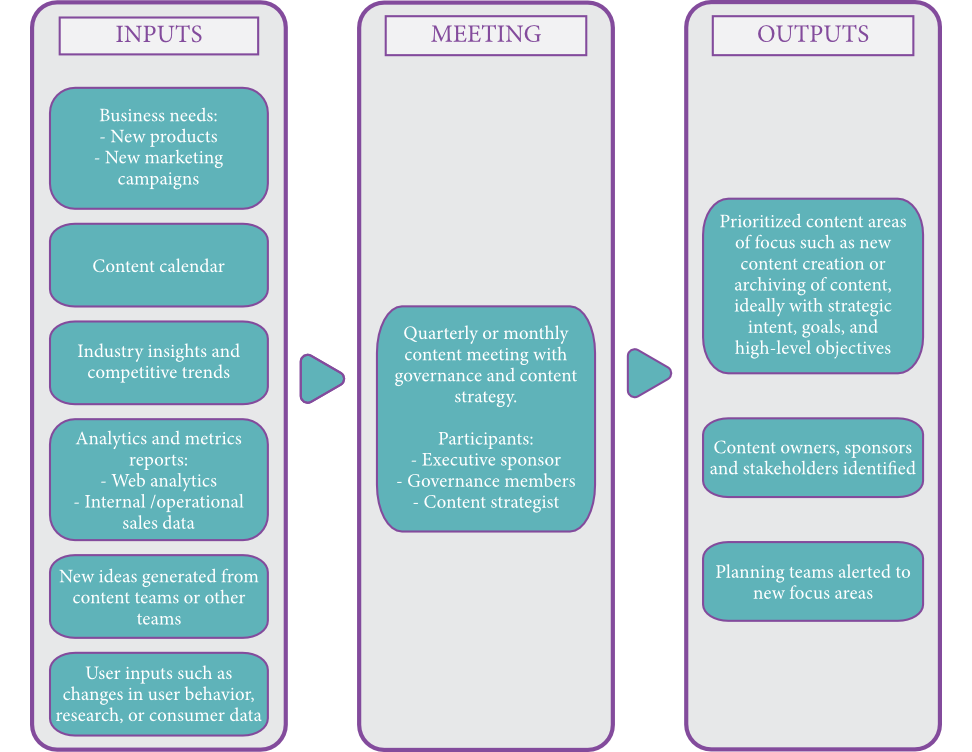 This diagram shows a quarterly or monthly meeting where content is reviewed and assessed in an organization with the intent to make recommendations on how to optimize it in the future. (Hint: Click the image to see a bigger version.)
This is a typical tool more and more organizations will adopt this year. Organizations that adopt such models support ongoing evolution and maintenance of content. These structures allow for nimble, extensible, and scalable content solutions.
And I hear tell that an emerging best-practices organization is developing standards, tools, and processes to help businesses govern their content. I also hear a long, awaited book by an extraordinary governance-genius, Lisa Welchman, comes out in the very, near future.

So there you have it, my thoughts for 2015 in the content universe…
As a final thought, if you don't like my list, then I would suggest reading Rebecca Lieb's article on 2015 trends, because her list is good. It may even be better than mine. And stay tuned for lots, lots more out of me.
Next forthcoming blog post will look at 4 new reports that are must-reads for anyone with an interest in content!