Enterprise Content Strategy: A Project Guide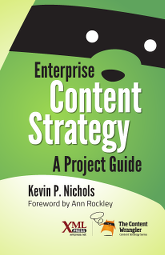 By Kevin P. Nichols and Ann Rockley (Foreword)
ISBN-10: 1-93743-444-3
ISBN-13: 978-1-937-43444-1
160 pages
XML Press (January 2, 2015)
Enterprise Content Strategy: A Project Guide provides a comprehensive process, a set of deliverables, and how-to guidance for content strategy creators, whether they are planning at the enterprise level or to meet the needs of a small organization.
With a foreword by Ann Rockley, Enterprise Content Strategy contains a brief but jam-packed and comprehensive set of best practices for content strategy, and introduces concepts like performance-driven content and content strategies for omnichannel.
Topics covered include: how to build a performance-driven, repeatable model; the role of omnichannel and its emerging importance; considerations for intelligent content, such as personalization.
Also covered:
Definitions for content strategy and related concepts
Steps in a typical content strategy project with associated deliverables
Step-by-step instructions for creating content strategy deliverables
Metrics to user for successful measurement
Examples of deliverables and tactics presented
Whether you're an expert practitioner or someone new to digital experience design, this book provides a wealth of information.

Buy now at Amazon.com       Buy now from Barnes and Noble       Buy ebook now at O'Reilly Media
---
---
UX for Dummies
By Kevin P Nichols and Donald Chesnut
ISBN-10: 1-11885-278-8
ISBN-13: 978-1118852781
332 pages
For Dummies; 1 edition (April 28, 2014)
More than just a 101, UX for Dummies is a comprehensive guide on how to effectively execute User Experience within an organization of any size. UX For Dummmies provides guidance on:
The benefits of UX
How to create an effective, measureable and able-to-evolve UX Strategy
Tactics and deliverables including information architecture, content strategy (and how and where it fits into the process) and visual design
Best practices for user research and testing
And much, much more
Topics covered also include: designing for multichannel experiences and how to optimize against different device features (smartphone, desktop, feature phone, and other channels), the role of social media and trends such as performance-driven design and omni-channel.
Buy now at Amazon.com       Buy now at O'Reilly Media
---