Enterprise Content Strategy: A Project Guide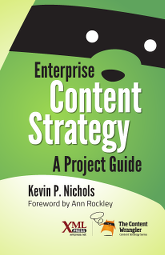 By Kevin P Nichols and Ann Rockley (Foreword)
ISBN-10: 1-93743-444-3
ISBN-13: 978-1-937-43444-1
160 pages
XML Press (January 2, 2015)
This book provides a comprehensive process, set of deliverables and how-to guidance for content strategy, whether creating an enterprise content strategy or one to enable a small organization's needs.
With a foreword by Ann Rockley, Enterprise Content Strategy contains a short but jammed-packed set of comprehensive best practices for content strategy and introduces concepts like performance-driven content and content strategies for omni-channel.
Topics covered include: how to build a performance-driven, repeatable model; and the role of omni-channel and its emerging importance and considerations for intelligent content such as personalization.
Also covered:
Definitions for content strategy and related concepts
Steps in a typical content strategy project with associated deliverables
Step-by-step instructions for creating content strategy deliverables
Metrics to user for successful measurement
Examples of deliverables and tactics presented
Whether you're an expert practitioner or someone new to digital experience design, this book provides a wealth of information.

Buy now at Amazon.com Buy now from Barnes and Noble Buy ebook now at O'Reilly Media
---
---